Voice technology is getting enormous traction at the moment. We believe that Voice assistants can be an opportunity for brands if they adapt their way of thinking about branding, content and customer interaction. The central question brands have to answer will be:
What does your brand sound like and where can you make it heard?
We believe that in the not so distant future audio interactions will become a common way of handling your digital life throughout the day. Let's look at some recent numbers: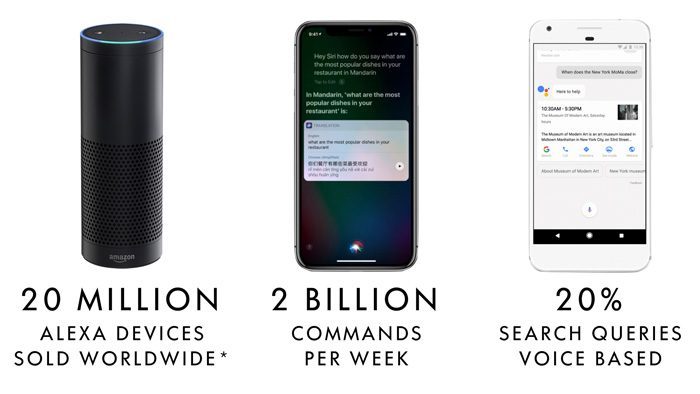 While these numbers are already promising our forecast is that once speech recognition will improve in its accuracy towards the 99% rate Voice interactions will take of.
That being said brands have to fundamentally change their way of thinking not only about how they branding but also how to treat content creation and customer interaction. Voice based interaction eliminates the need for most of the visual brand elements. Brands will face the challenge of having to find new ways to create recognisable elements and forms of storytelling that only work with audio.
Why Podcasts will become the new blogs
With Voice technology on the rise podcasts are as well again. The format has been around for quite some time now and brands are beginning to use it for new forms of storytelling that can be quite successful if done right:
Great examples for branded podcasts are "The message" and "After life" by GE or "Open for Business" by ebay.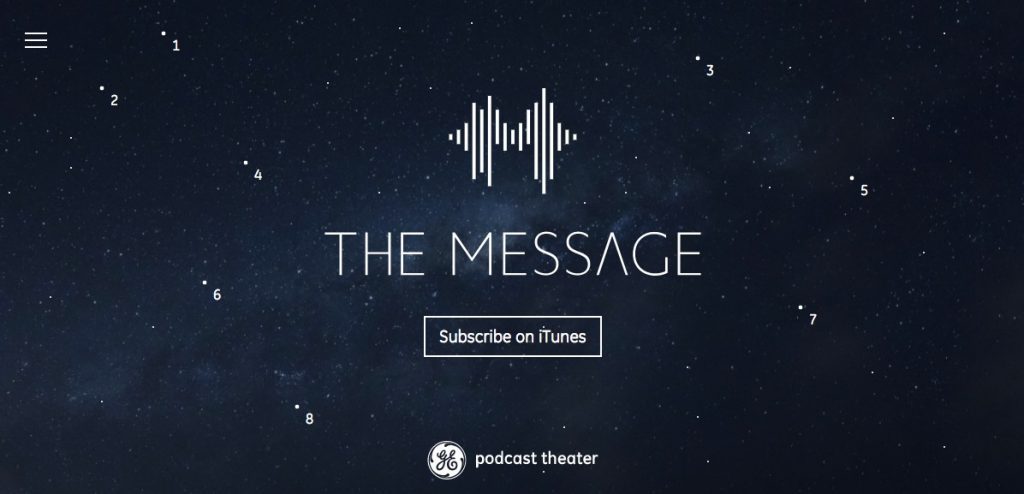 With creating "The message" and more than 6 million downloads GE created an audio marketing superhit in 2015, back when hardly anybody was talking about podcasts as branded content. And that is exactly why this podcast is so successful:
Story First – Brand second
Podcasts are a long form medium, that people need time to listen to. That is why brands don't have time to loose talking about products or their selfs. Don't think of it as a advertising. Since there will be more and more branded podcasts coming up in 2018 you should be honest with yourself and ask: "Would I be listening to this, if I wasn't working for the company?" Take it from a pro:
"I don't consider it advertising. It's a podcast show that just happens to be produced by a brand instead of a network. I'm not saying, 'Hey, go out and buy a jet engine.' It's a science fiction story to connect listeners with what the GE brand is about, without selling the GE brand." – Andy Goldberg chief creative officer at GE.
Another brilliant branded podcast is "Open Business" from ebay. The podcast is about entrepreneurs in general. And, on multiple occasions, the host discloses eBay's influence, as required by the company's advertising guidelines. Still the podcast manages to tell a story interestingly enough, that people like to listen to it. They have been renewd for a second season.
If you want to find out about how to produce a podcast for your brand we are here to help: from creating the stories, to finding hosts, recording mixing and marketing the podcast just get in touch and we'll talk…